Construction Executive Summit 2022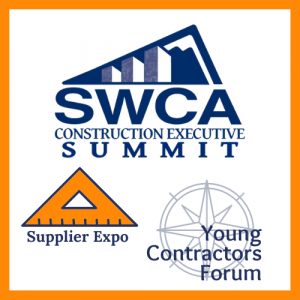 We are making plans for Summit 2022
Thursday February 3, 2022
7:00 am - 4:30 pm with Reception to follow
Vancouver Hilton, Vancouver WA
What is the Construction Executive Summit?
The Construction Executive Summit is a one day conference held in Vancouver Washington. At the Summit, over 200 local construction industry leaders come together to learn about key trends and concepts for running their business. The day includes 12 different presentations that cover broad topics including marketing, finance, human relations and technology. Keynote speakers provide additional insight and motivation to the event. The Summit also provides an opportunity to network with industry leaders, contractors, subcontractors, suppliers and other businesspeople that support and influence the future of the construction industry in Clark County.
In 2022 we are excited to open up this event to our community youth interested in a career in construction or the trades.  We will have a special panel for the kids as well as an opportunity for them to meet attendees at the Reception.  Please sponsor the entrance fees for these students when you purchase your tickets.
Summit 2022 Schedule of Events
Registration and Coffee in the Lobby
Supplier Expo Begins
Breakfast & Keynote in the Ballroom
Breakout Session 1
9:00 - 10:00 am
Eight Steps to Take Now to Prepare for Payment Disputes
Bryce Sinner
Preventing and Deterring Fraud in the World of Contracting
Tim Porter & Conor Ferguson
Health in the Workplace
Mike Nieto
Breakout Session 2
10:15 - 11:15 am
Insider Talks with a Construction Underwriter
Justin Cumnock
Workforce:  Moving from Crisis to Advantage
Shawn Busse
Is Federal and State Certification Right for your Business?
Jeannet Santiago
Lunch & Keynote in the Ballroom
Breakout Session 3
12:45 - 1:45 pm
Transitioning Ownership of your Construction Business
Matt Bisturis
Mentor-Protégé Program via Small Business Administration
Joseph Smetek
Optimizing your Fleet Investment
Michael Kelley
Breakout Session 4
2:00 - 3:00 pm
Cybersecurity in Construction: What you Need to Know
Steven Williams, Katie Fairhart & Alex Pazooki
Get a Grip on your Business
Matt Todd
Keynote in the Ballroom
Title TBD
Robert L. Bertini, Oregon State University
Young Contractors Panel Discussion (Breakout Room)
Insight on Navigating your Early Career?
Reception
Please join us for an all-ages reception and meet & greet with the Young Contractors in our community.
Why Should You Come to the Summit?
Besides the opportunity to earn 6 continuing education credits, the Summit is an amazing opportunity for you and your team to learn together about new trends in construction. During breaks and meals you can share ideas and network with other locally focused businesspeople. In addition to keynotes and speakers, the Summit features a Supplier Expo where you can connect with leading suppliers to your industry.
How Can You Get Involved with Summit?
SWCA is currently planning for the Construction Executive Summit on February 3, 2022 to be held at the Vancouver Hilton.
If you would like to sponsor the event, feel free to reach out to us with an email to Sherrie@swca.org.
Thank you for attending the Summit and Supplier Expo in 2020!
The SWCA Construction Executive Summit is designed to meet the needs of all businesses working within the construction industry throughout the Pacific Northwest. The Summit will offer individuals and organizations the opportunity to network with other leaders in the industry, learn/sharpen business skills, and influence the future of the construction industry in the Pacific Northwest.
Mission: The Construction Executive Summit will provide Pacific Northwest business leaders the tools to realize their potential, gain skills to implement best practices, and grow their businesses.