Construction Executive Summit 2021
We are making plans for Summit 2021 - DATE HAS NOT YET BEEN DETERMINED
We are starting to plan for Summit 2021!  Do you have a great idea for a presentation?  Do you have questions about what is happening in the Construction Industry?  Do you have specialized knowledge that you would like to share?   Some topics that we would like to explore related to construction include:
Jobsite security
Cyber security
Business resilience
Trauma and mental health
Please fill out the RFP if you would like to present at the 2021 Construction Executive Summit.  Here are the details:
1) Complete the RFP and return it to ellen@swca.org before midnight on August 31, 2020.  If you have an idea for a combined topic or would like to organize a panel let us know.  Presentations last about 60 minutes - including content and questions.
2) We will be in touch in October about the selections for topics.   We will send more instructions and thoughts at that time.
3) Summit takes place  on Thursday February 4, 2021 - last year over 200 people attended.  All of this happens with the support of the community!
Please reach out to ellen@swca.org if you have questions.
What is the Construction Executive Summit?
The Construction Executive Summit is a one day conference held in Vancouver Washington. At the Summit, over 200 local construction industry leaders come together to learn about key trends and concepts for running their business. The day includes 12 different presentations that cover broad topics including marketing, finance, human relations and technology. Keynote speakers provide additional insight and motivation to the event. The Summit also provides an opportunity to network with industry leaders, contractors, subcontractors, suppliers and other businesspeople that support and influence the future of the construction industry in Clark County.
Why Should You Come to the Summit?
Besides the opportunity to earn 6 continuing education credits, the Summit is an amazing opportunity for you and your team to learn together about new trends in construction. During breaks and meals you can share ideas and network with other locally focused businesspeople. In addition to keynotes and speakers, the Summit features a Supplier Expo where you can connect with leading suppliers to your industry.
How Can You Get Involved with Summit?
Do you have skills that can enable the construction industry? Does your company provide a unique service? Do you love public speaking? Consider filling out an RFP and being a speaker.
Do you want to support this event? Consider a sponsorship or buying a table for your company and colleagues.
Get in touch with us if you have questions about the Summit. We would love to hear from you!
Thank you for attending the Summit and Supplier Expo in 2020!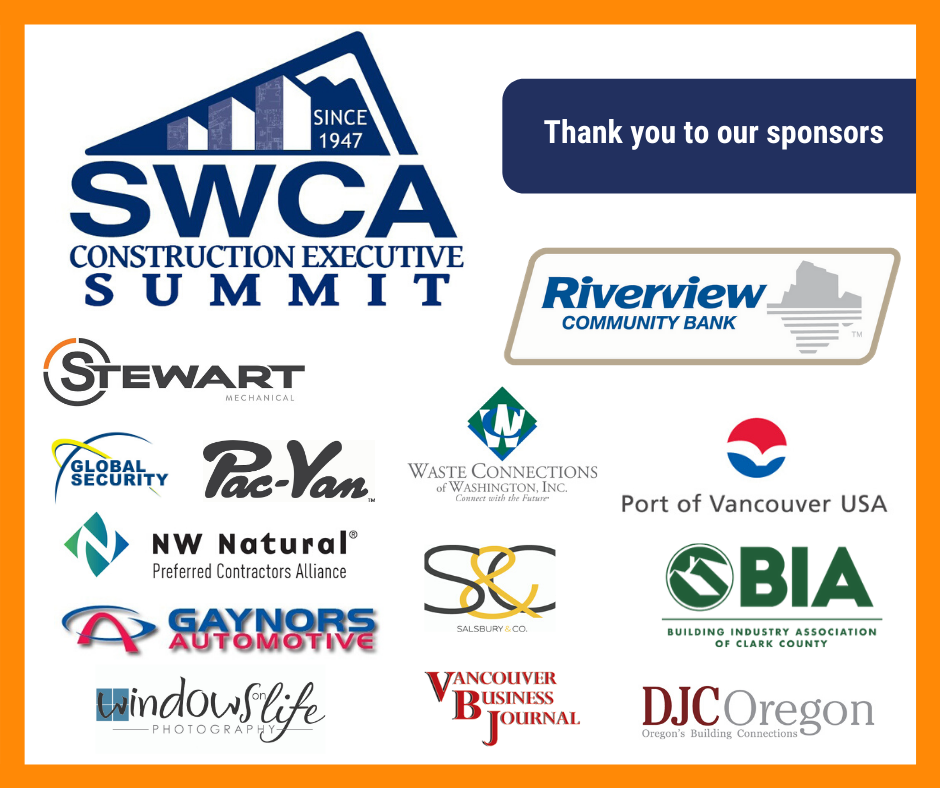 Many thanks to the companies that participated in our Supplier Expo!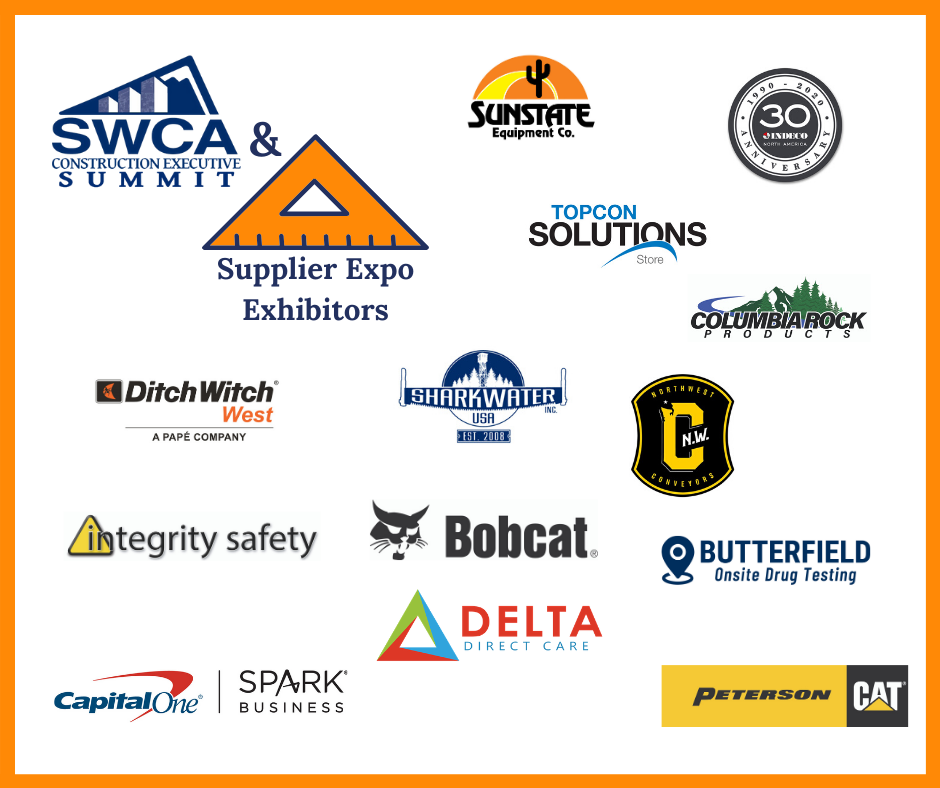 Breakout Session Presentations
To download breakout session presentations, please click on the files below to download.
The SWCA Construction Executive Summit is designed to meet the needs of all businesses working within the construction industry throughout the Pacific Northwest. The Summit will offer individuals and organizations the opportunity to network with other leaders in the industry, learn/sharpen business skills, and influence the future of the construction industry in the Pacific Northwest.
Mission: The Construction Executive Summit will provide Pacific Northwest business leaders the tools to realize their potential, gain skills to implement best practices, and grow their businesses.